For comprehensive waste management in Vineyard, Utah, you can count on the experienced professionals at Bear Services.
Whether you need a commercial dumpster service, roll-off bin rental, construction dumpster service or a temporary residential dumpster rental, we've got you covered. With almost two decades of experience and more than 100 bins in our inventory, we can provide the waste management and recycling services you need – at a price we think you're going to love.
Give our friendly, helpful staff a call today and, before you know it, we will deliver your dumpster or roll-off bin to your location.
Residential & Commercial Dumpster Service
Bear Services provides both commercial and residential dumpsters and waste management services to clients in Vineyard UT and the surrounding communities.
Residential customers can choose either the 15- or 30-yard dumpster size and we will delivery it directly to your location. Once you fill it or finish with your project, we will pick it up and haul it away. Our service is the most affordable and hassle-free way to dispose of construction debris, landscape trimmings or just about anything other material you wish to dispose of.
Commercial dumpsters – long-term, temporary or single-use – are typically available for next-day delivery and you can keep it as long as you need it to get the job done. Or, if you need long-term service with periodic disposal, we can provide the services you need.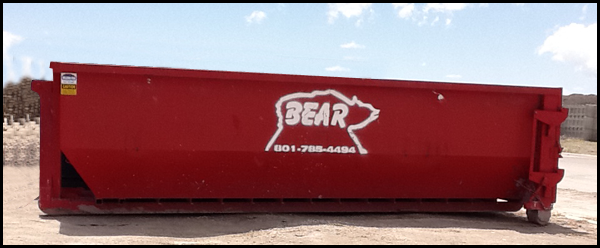 Vineyard, Utah Roll-Off Bins
For easy and affordable roll-offs in Vineyard, give us a call. Our roll-off bins are appropriate for almost any location and application.
Since 2000, we have provided waste management services for residential and commercial construction projects, apartment complexes, restaurants and retail centers. We have built a reputation throughout Northern Utah for friendly service, flexibility and fair, honest pricing.
We pride ourselves on our responsiveness as well, with a fleet of trucks ready to roll at a moment's notice. Once call is all it takes you get your roll-off bin delivered, picked up or switched out.
Full Service Waste Management in Vineyard, Utah
To meet all your waste management needs, Bear Services provides both short- and long-term dumpster service, as well as permanent and temporary roll-off bin rentals. Our 15-yard dumpsters work well for residential customers and smaller amounts of debris, while our 30-yard bins can handle just about anything you can throw in.
If you aren't sure which option is right for you, we can explain your options and help you make the most effective – and cost-conscious – roll-off bin choice.
We are committed to making waste disposal as easy as possible. You can contact us by phone or email to ask a question or place an order for dumpster delivery, swap-out or pickup. You can even request a quote on our secure user-friendly website!
When you have debris that needs to go, always remember: You can't go wrong when you trust Bear Services for all your waste management needs.